Professional collaboration
Professional collaboration
In 2019, Agathe Jacquinet contacted Éléonore de Staël for a project she still kept secret. From this first meeting, a continuous sharing was created around the passion for perfume, the desire for well-being and the quest for serenity. The obvious choice of the responsibility to create in harmony with their environment is correlated to their common way of life. Their choices and paths cross to begin the ajnalogie adventure.
ajnalogie means "the science of intuition". This encounter with Éléonore de Staël, allowed her to make her vision come true.
The creative intentions of ajnalogie are to adapt to our energetic and emotional needs. This idea comes from Agathe's personal use of fragrances. Each creation corresponds to a daily emotional need. Fragrances combining virtues and the art of perfumery.
Agathe is the happy founder of ajnalogie, Éléonore, the inspired creator of these fragrances.
LES JARDINS DE CARBAY HILLS
In 2016, when Éléonore de Staël brought out her book Nez Indigo, she was approached by the brand Les jardins de Carbay Hills. Véronique Biard has an ambitious and honest project, she wants to offer visitors to her garden a part of it, its fragrance. The project immediately seduces the perfumer; the creative dialogue is intertwined with moments of life where elegance and generosity align. The fragrance "Fleurs de joie" was born from the Angevin soil cultivated by the two owners of the gardens in the village of Carbay. This feminine perfume is also the fruit of their first love, the simplicity of essential oils, straight and intense lines. A committed femininity, the resonance of a gardener who marvels. This perfume is 100% natural, we share our joy of nature in the heart of this bottle.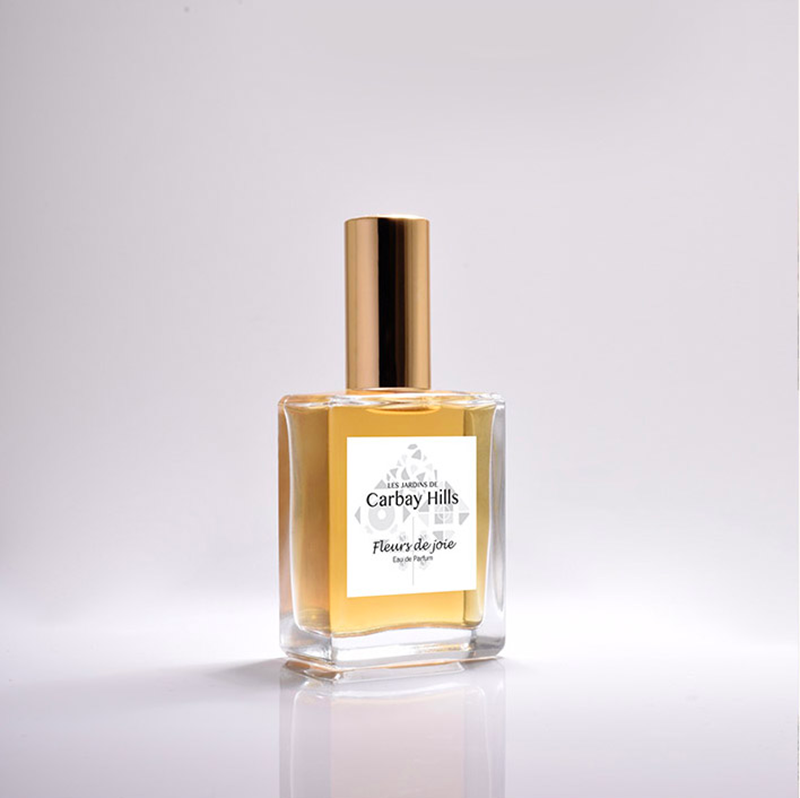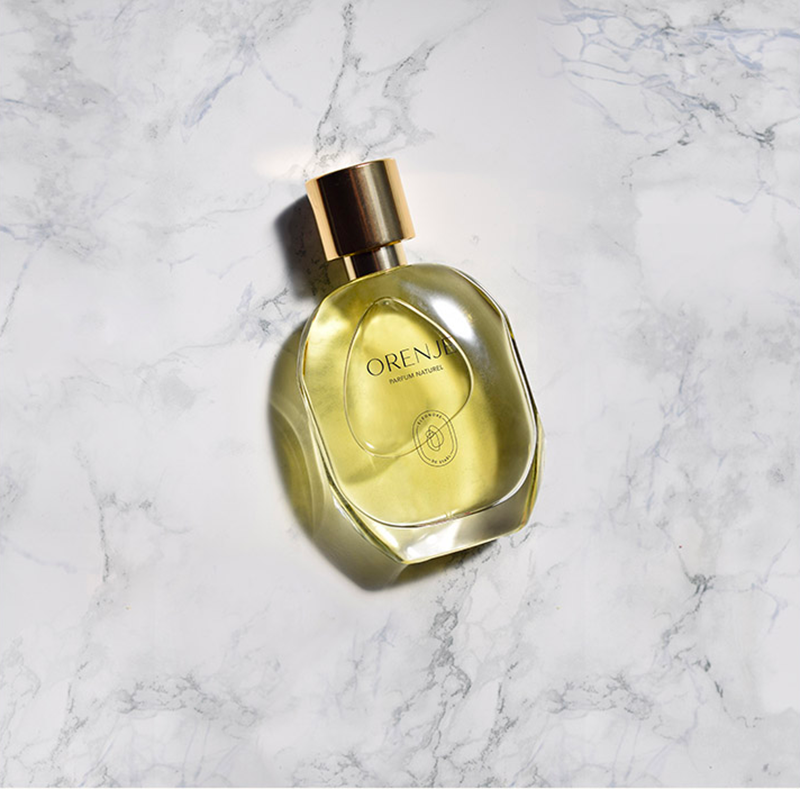 Orenje, 100 % natural perfume
In April 2019, Éléonore de Staël launches "Orenje", a perfume of a journey, initiator of projects and partnerships.
The creative intention has turned into a journey around the orange tree and gold within ourselves (Orenje : Or = gold; En = within; Je = I/myself). Inspired by the tale La B.O2 by -M, in the language of birds:
"A golden guardian angel clothed in gold, a luminous companion inviting us to abandon everything to follow him. To find the gold in oneself. "The gold in me". "
It is from the heart of one of the most generous trees in perfumery that the natural fragrance Orenje draws its luminous notes. Tunisian neroli and sweet orange vibrate on an amber background. A sensation of renewed energy thanks to a vitamin-rich opening of orange, mandarin and bergamot. The pulses of a sensual and floral heart of neroli combined with the richness of ylang-ylang reveal a bewitching base of amber, vanilla and myrrh.
The year 2015 in Grasse is coming to an end, and it is time to return to Paris far from the perfume organ. Éléonore de Staël was looking for a simple, accessible way to share her creativity and to bring her messages to life. Writing is an obvious choice. This book paints her creative intentions, it becomes a root and a source of inspiration for her future creations, the foundation of her artistic will.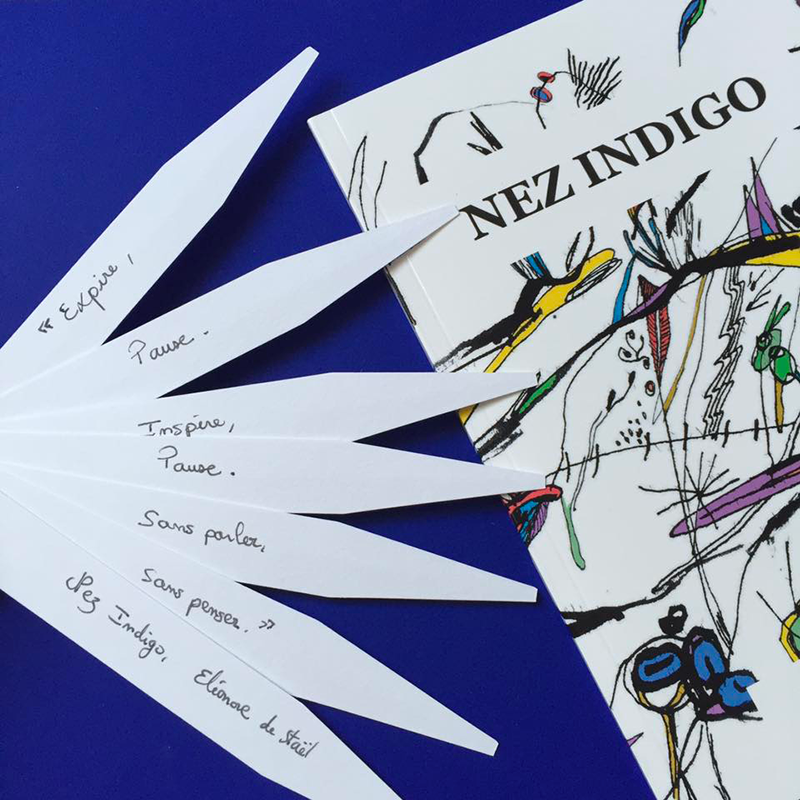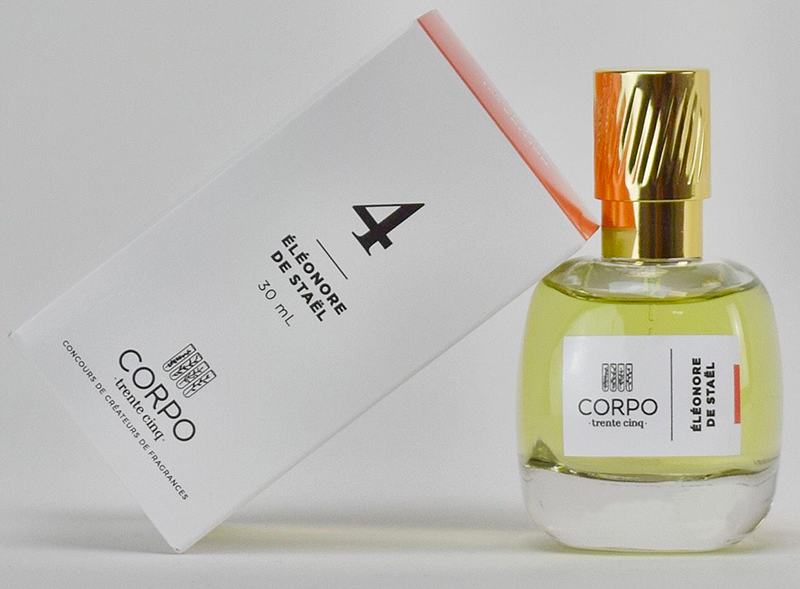 It was in 2017 that Éléonore de Staël award-winning of the first edition of the New Nose of the Year contest with her perfume Indigo. Corpo 35 is a contest that highlights the perfumer-creator and his creation, just like the final packaging on which the creator's name appears.
Thanks to an experience like an unusual return to the Earth, she chose to direct her pipettes towards the olfactory power of plants she had never suspected. Her passion for perfume brings her back to the Earth, to a wider awareness of scents and their effects.
Indigo is the olfactory translation of this path.